First and second grade students at Mill Brook School learned about the process of creating Wishing Trees during the beginning of the school year. Wishing Trees are the tradition of tying colorful ribbons and papers to trees that started in China as a Buddhist's celebration. Students also learned that many other people have since adapted and created their own Wishing Trees throughout the world.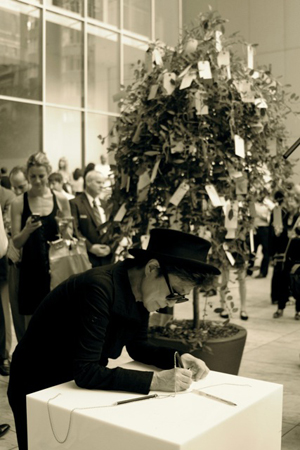 Here is an image of artist Yoko Ono adding a wish to her art piece Wish Tree for MoMA created in 2010 in New York City. (Image taken from MoMA.org)
First and second grade students worked together to create the paper that would be used as the "ribbons" and tags for our Wishing Tree.
First grade students use white water color paper, crayons and waters colors. However, before any of our fun with paint could begin, students discovered what a line could look like in art class. Then, they created continuous line drawings with crayon in two different colors. Afterward they used watercolors over the crayon to create a resist and interesting design.
Second grade also discussed different kinds of line and created a line drawing using black markers. Each second grade team used different colors of construction paper and added Tempera paint on top for that extra pop of color.
After all of the students' work had dried their work was cut in half. One piece was kept for the Wishing Tree Project and cut up into different strips. The other piece was put in the students's portfolios and will go home at the end of the year!
FUN AT OPEN HOUSE!
Strips were then placed out at Open House for students and families to create their own wishes to put on Mill Brook's very own Wishing Tree. Students and families of all ages had a wonderful time drawing and writing different things to put on the tree.